Bird Species, Listed by Common Name and broken into Passerines and Non-Passerines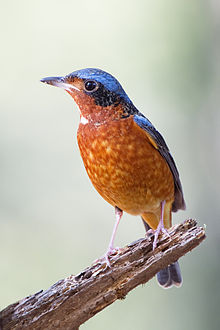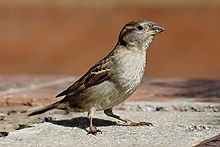 The naming conventions for birds is just as puzzling as the shear number of different species of birds that are in the world. In order to break this down into a manageable list, we're sorting the birds into two groups, passerine and non-passerine.
A passerine is a bird of the order Passeriformes, which includes more than half of all bird species. Sometimes known as perching birds or as songbirds (this isn't always accurate), the passerines form one of the most diverse terrestrial vertebrate orders. It contains over 5,000 identified species and contains over 110 families. The names "passerines" and "Passeriformes" are derived from the Latin term "passer" for Passer sparrows and similar small birds.
Non-Passerines:

Albatrosses and Petrels
Birds of Prey
Cassowaries and Emus
Cranes and Relatives
Cuckoos and Turacos
Divers
Flamingos
Gamebirds
Grebes
Kingfishers and Relatives
Kiwis
Mousebirds
Nightjars and Frogmouths

Ostriches
Owls
Parrots
Pelicans and Relatives
Penguins
Pigeons and Doves
Sandgrouses
Storks and Herons
Swifts and Hummingbirds
Tinamous
Trogons
Waders, Gulls, and Auks
Woodpeckers and Toucans
Passerines:

Accentors
Antbirds
Antpittas and Antthrushes
Asities
Australasian Babblers
Australasian Treecreepers
Australasian Wrens
Australian Robins
Babblers and Relatives
Bald Crows
Bananaquit
Berrypeckers
Birds-of-Paradise
Boatbills
Bowerbirds
Bristlebirds
Bristleheads
Broadbills
Bulbuls
Bunting and American Sparrows
Bushtits
Butcherbirds
Cardinals and Grosbeaks
Chats and Flycatchers
Cisticolas
Cotingas
Crows and Jays
Cuckooshrikes
Drongos
Dippers
Fantails
Fairy-Bluebirds

Finches and Relatives
Flowerpeckers
Gnateaters
Gnatcatchers
Goldcrests
Helmetshrikes and Puffbacks
Honeyeaters
Ioras
Larks
Leafbirds
Logrunners
Lyrebirds
Manakins
Mockingbirds and Thrashers
Monarchs
Mudnesters
New Zealand Wrens
New World Warblers
New World Blackbirds
Nuthatches
Old World Sparrows and Snowfinches
Old World Warblers
Orioles
Ovenbirds
Palmchat
Penduline Tits
Pardalotes
Philippine Creepers
Pittas
Quail-Thrushes
Satinbirds
Scrubbirds

Shrikes
Shrikethrushes and Relatives
Shriketits
Sitellas
Starlings
Sunbirds
Sugarbirds
Swallows and Martins
Tanagers
Tapaculos
Thornbills and Gerygones
Treecreepers
True Tits
Thrushes
Tyrant Flycatchers
Vangas
Vireos and Relatives
Wagtails and Pipits
Wattle-Eyes and Batises
Wattled Crows

Waxbills and Relatives
Waxwings and Relatives
Weavers
Whipbirds and Relatives
Whistlers
White-Eyes
Whydahs
Woodcreepers
Woodswallows
Wrens